En Barcelona, del 22 al 29 de julio
11º Simposio Mundial de Música Coral
Barcelona es una ciudad eminentemente cultural, donde la música coral es un elemento muy importante, con centenares de coros procedentes de muy diversos ámbitos y con una amplia gama de estilos. La Federación Catalana de Entidades Corales (FCEC) está trabajando conjuntamente con la Federación Internacional para la Música Coral (IFCM) para que el 11º Simposio Mundial de Música Coral, que tiene lugar en la Ciudad Condal del 22 al 29 de julio, sea un evento inolvidable.
El Simposio tiene como lema: "Los Colores de la Paz". Los colores simbolizan el pluralismo de la vida coral internacional en la construcción de un mundo en Paz. Esta es una nueva oportunidad para trabajar conjuntamente y alcanzar este noble objetivo.
Ocho días, más de 50 conciertos, 36 conferencias, 35 presentaciones, cuatro clases magistrales y una exposición con más de 40 estands. Puedes encontrar toda la información en www.wscm11.cat.
Esperamos contar con vosotros.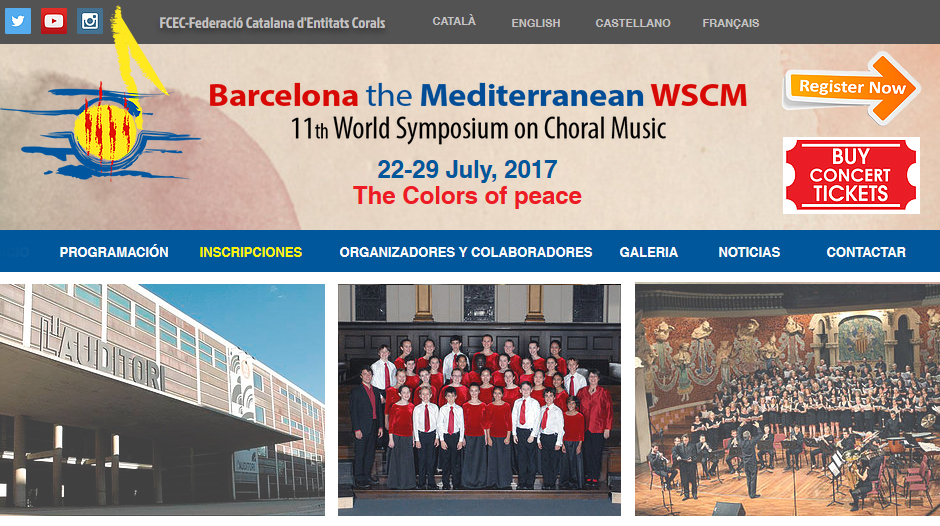 The 11th Worldwide Symposium of Choral Music will be take place on July the 22nd – 29th, 2017
Barcelona is a remarkably cultural city, where choral music is a very important element. There are hundreds of choirs from a diverse range of settings and a wide scope of styles.
The Catalan Federations of Coral Entities (FCEC) is working together with The International Federation of Coral Music to make the 11th Worldwide Symposium of Choral Music, an unforgettable event.
The Symposium's motto is: "The Colours of Peace". Colours symbolize the pluralism of the international choral life that builds a peaceful world. This is a new opportunity to work jointly and reach this lofty goal.
8 days, more than 50 concerts, 36 conferences, 35 presentations, 4 masterclasses, 1 expo with 40+ stands. You can find all the information at www.wscm11.cat.
We hope that you can participate.