Para identificar grabaciones
AIE y BMAT colaboran en la base de datos de música VRDB
La Sociedad de Artistas AIE confía en la especialización en tratamiento de datos de BMAT para recopilar y gestionar datos de música con los que nutrir a VRDB. "Nos alegramos de haber tenido la oportunidad de aportar nuestra pequeña contribución al proyecto, y estamos muy agradecidos a AIE por ello", señala Álex Loscos, CEO de BMAT.
La Sociedad de Artistas Intérpretes o Ejecutantes, AIE, anuncia una asociación con BMAT, la compañía líder en identificación de música, para recopilar y gestionar conjuntamente los datos que AIE aportará a la base de datos internacional de música grabada Virtual Recording Data Base (VRDB).
VRDB fue lanzado en 2016 por el Consejo de Sociedades para la Gestión Colectiva de los Derechos de los Artistas Intérpretes, SCAPR, como una iniciativa estratégica para lograr el desarrollo global de la reciprocidad entre sus sociedades miembros.
VRDB proporcionará un sistema centralizado, armonizado y más eficiente que permitirá a sus miembros identificar las grabaciones sonoras y las obras audiovisuales e intercambiar la información de los artistas intérpretes o ejecutantes. Esto conducirá a una distribución más exacta de los derechos y a un flujo mejor y más eficiente de datos internacionales.
Después de una primera fase de desarrollo, el proyecto ha iniciado la fase de producción en la que todos los miembros deben introducir sus datos en una base de datos común. Esta parte clave del proceso requiere información precisa y fiable, lo cual es algo difícil de lograr debido a las diversas fuentes y estándares de los datos, que no siguen un patrón específico.
Alex Loscos, CEO de BMAT, señala: "Actualmente estamos ayudando a un número significativo de organizaciones de copyright a mejorar los metadatos que llegan a su documentación. Mientras que típicamente este es un servicio que ofrecemos dentro del marco digital a las sociedades de autores como SACEM, SIAE, SGAE, SPA, ARTISJUS, SPA, MUSICAUTOR y otros, es un paso natural para nosotros abrir el alcance de nuestra experiencia en datos a sociedades para el offline. Estamos muy contentos de ver que VRDB se ha desarrollado con éxito, nos alegramos de haber tenido la oportunidad de aportar nuestra pequeña contribución al proyecto, y estamos muy agradecidos a AIE por ello".
Acerca de AIE
AIE es la organización de gestión colectiva que representa en España a los artistas intérpretes o ejecutantes de música. Con más de 25.000 miembros directos y más de 800.000 a través de 88 acuerdos de representación en todo el mundo, AIE representa más artistas intérpretes o ejecutantes de música y en más territorios que cualquier otra entidad de gestión colectiva de derechos. AIE ha desempeñado un papel clave en la definición y ejecución de la plataforma VRDB de SCAPR.
Acerca de BMAT
BMAT actualmente ofrece más de 90 PROs y más de 80.000 sellos con obras reproducidas en más de 4.000 canales de radio y televisión de todo el mundo, más de 450 localizaciones y 90 proveedores de servicios digitales. Especialistas en la recolección de datos, uno de los valores añadidos de BMAT radica en sus habilidades enriquecedoras, un requisito básico para el correcto desarrollo del proyecto.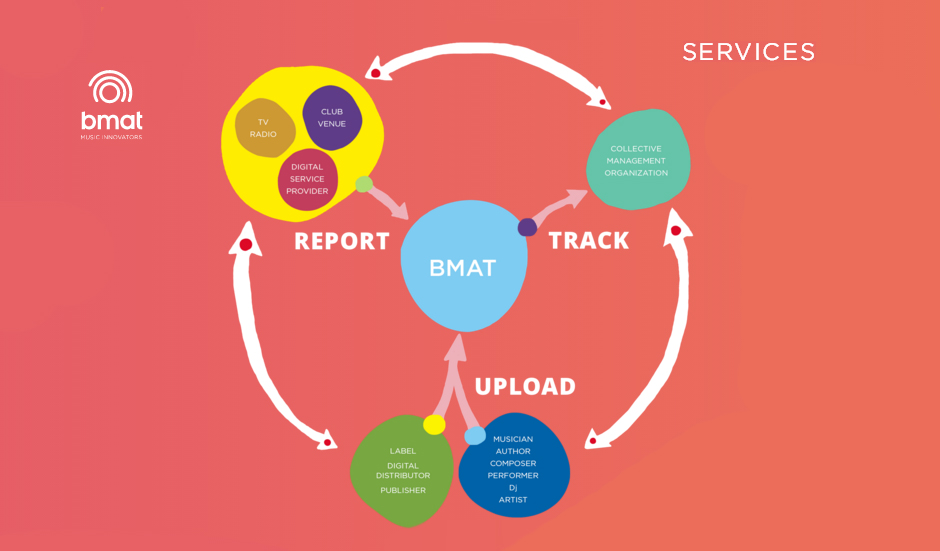 AIE and BMAT partner for VRDB
Spanish Performers' Association trusts BMAT's data expertise to curate sound recording's data to feed VRDB
Spanish Performers' Association, AIE, announces a partnership with BMAT, the leading music identification company, to jointly curate the data AIE will be populating the VRDB database with.
VRDB was launched in 2016 by the Societies' Council for the Collective Management of Performers' Rights, SCAPR, as a strategic initiative to achieve the global development of reciprocity amongst its member societies.
VRDB will provide a centralized, harmonised and more efficient system to enable its members to identify sound  recordings and audiovisual works and exchange the performers' information. This will lead to a more accurate royalty distribution and a better and efficient flow of international data.
After a first developing  phase, the project has initiated the production  phase where all the members are due to introduce their data in a common database. This key part of the process calls for accurate and reliable information, which is something difficult to achieve due to the various sources and standards of the data, that don't follow a specific pattern.
Alex Loscos, CEO of BMAT, commented, "We are currently helping a significant number of Copyright Organisations to better the metadata that reaches their documentation. Whereas typically this is a service we provide within the digital framework to Authors Societies such as SACEM, SIAE, SGAE, SPA, ARTISJUS, SPA, MUSICAUTOR and others, it is a natural step for us to open the scope of our data expertise to Neighbouring Societies for the off-line. We are very happy to see VRDB roll out successfully, we are glad we had the chance to bring our little contribution to the project, and we are very thankful to AIE for it.
About AIE
AIE is the collective management organization representing the Spanish music performers. With 25.000+ direct members and more that 800.000 through 88 representation agreements across the globe, AIE represents more music performers and in more territories that any other CMO. AIE has played a key role in the definition and execution of the SCAPR's VRDB platform.
About BMAT
BMAT currently provides more than 90 PROs and over 80 thousand labels with the tracks played worldwide in more than 4,000 radio and TV channels, over 450 venues and 90 Digital Service Providers. Experienced on collecting the data, one of BMAT's added values lies on its enrichening skills, a basic requirement for the correct development of the project.