En la Sala Cool el próximo 29 de junio
¿Quieres actuar junto a Curtis Harding en Madrid?
El estadounidense Curtis Harding actuará en la Sala Cool de Madrid el próximo 29 de junio. The Spanish Wave, el proyecto de internacionalización del talento musical nacional, abre una convocatoria para seleccionar a un/a artista local para abrir el concierto.
FORMULARIO DE REGISTRO AQUÍ, FECHA LÍMITE 31 DE MAYO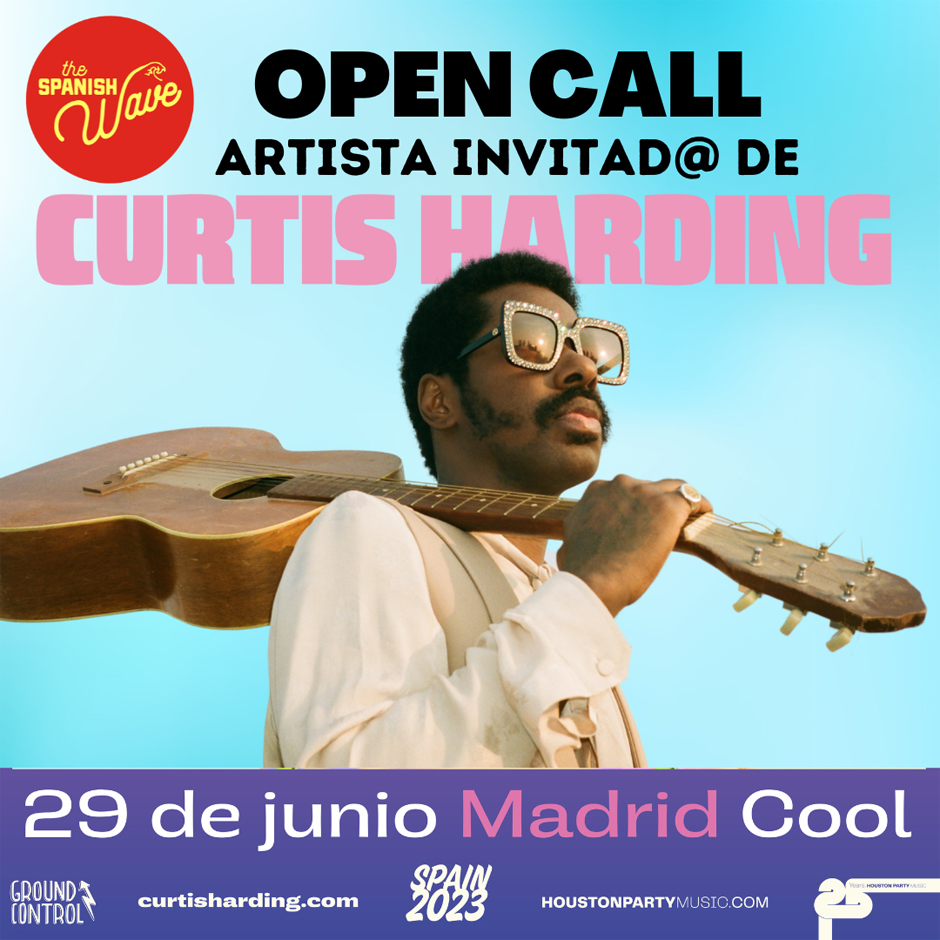 El versátil músico estadounidense Curtis Harding está revolucionando la escena del retro-soul. Con una combinación única de pasión e intensidad, aborda el clasicismo musical y también se adentra en el rock indie y el garage rock, mostrando actitud y energía.
Nacido en Michigan y criado por una madre intérprete de gospel, Curtis se introdujo en el mundo del espectáculo desde temprana edad. Su voz se hizo conocida en varias remezclas de Outkast y también trabajó como corista para Cee Lo Green en algunos álbumes y presentaciones en vivo. Incluso compuso canciones para él.
En 2011, Curtis se asoció con Cole Alexander, guitarrista de Black Lips, quien compartía su pasión por el soul sureño de la vieja escuela, y juntos formaron Night Sun, un proyecto que fusionaba sus intereses comunes con el garage rock.
En la primavera de 2014, lanzó su álbum "Soul Power", seguido por "Face Your Fear" en octubre de 2017, elevando aún más su estatus musical. En 2018, mientras estaba de gira como telonero de Lenny Kravitz, lanzó dos sencillos: "It's Not Over" y "Where We Are".
En noviembre de 2021, presentó su tercer álbum titulado "If Words Were Flowers", el cual se destacó por su enfoque experimental y caleidoscópico, consolidando su posición como un artista que va más allá del sonido vintage.
En ese mismo año, Curtis Harding lanzó su canción más reciente, "Our Love", en colaboración con la cantante estadounidense Jazmine Sullivan. El tema forma parte de la banda sonora de "Arcane", una serie derivada del popular videojuego "League of Legends", transmitida en la plataforma de streaming Netflix.
The Spanish Wave es el proyecto de internacionalización del talento nacional de Live Nation España. Una iniciativa que pretende ayudar en la exportación de artistas y bandas emergentes de nuestro país participando en diversas ferias, festivales de showcases y eventos musicales con presencia de profesionales del sector. Colaborando estrechamente con agencias de contratación españolas, la Sociedad de Artistas AIE, Fundación SGAE o Instituto Cervantes, este año 2023 prometen un auténtico tsunami de talento español repartido por todo el mundo.